Boats come in many different shapes and sizes. There are now bow and stern thruster solutions for virtually every type of motor boat and sailing yacht ever produced.
Traditional thrusters continue to dominate the market

These solutions aren't just for plastic moulded hulls. Today you'll find solutions for both wooden, steel, aluminium and carbon-fibre hulls with every kind of external design, keel arrangement and internal layout configuration imaginable.

With that said, traditional tunnel thrusters continue to dominate the market. But where there's simply isn't enough internal space to install a standard thruster, fear not - because there are several less well-referenced options that you will still be able to use.

Within this article we will take a look at the following thruster types:

1. Side propeller for tunnel installation
2. Retractable (folding) side propeller
3. Externally mounted side propeller
Side propeller for tunnel installation

For the widest possible choice of sideways thrust available, look no further than for a well-made and professionally installed tunnel thruster.
Main thing to think about is having enough internal volume and bow / stern access for correct installation inside your boat. There is no room for making a miscalculated error here because the position of the submerged tunnel in relation to the waterline above is critical for optimizing both thruster performance and in the reduction of noise.
Today's tunnel thruster choices are amazing and if you choose your manufacturer wisely, your system can be upgraded to proportional control, letting you control your thrusters in much the same way as you would use the gas pedal on a car.
Read more: How much power do I need from my bow and stern thruster installations? →
Instead of a full-power on/full-power off, Proportional Control lets you carefully feed in just the right amount of sideways thrust required for the circumstances prevailing, giving you total close quarters manoeuvrability and full, single-handed control.
Pros:
Solid and well-proven construction with few moving parts.

Wide choice available.

Comparatively high value for money versus other types.

Can help to stiffen and add structural integrity to a hull.

Troubleshooting and maintenance without lifting the boat.

Some systems available with ignition protection and protection from water ingress.

No reduction in boat speed when the tunnel is correctly installed.
Cons:
Complex installation so professional fitment is strongly preferred.

Requires sufficient internal space to fit.

Tunnel must be located a minimum of ½ to 1 times its diameter beneath the waterline.

Some noise emission possible unless the tunnel is optimally installed.
Retractable (folding) side propeller

Retractable thrusters that can be placed in either bow or stern locations at the furthest most extremities of a hull are becoming more and more popular. The discreet nature of fully retractable thrusters lends themselves perfectly within the large, bespoke yacht and super-yacht community.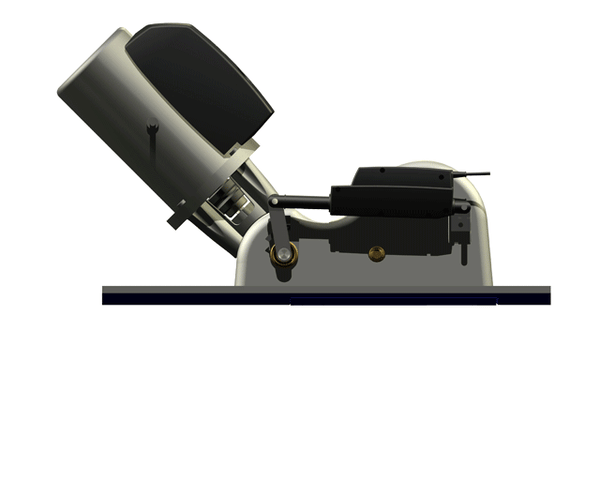 It's perhaps an even more obvious solution for cruiser-racers where drag might become an issue, or for very flat-bottomed boats that simply do not have the minimum draft required to locate a traditional tunnel thruster in the correct position.
By using single or twin actuators for fast deployment times, the propellers used in retractable thrusters are housed within shorter length tunnels compared to standard tunnel installations.
The best solutions on the market have protection against running aground, using so-called breakpoints. Breakpoints work by releasing the tunnel if a boat were to run aground with the tunnel deployed so that the integrity of the hull is not jeopardized.
Read more: How to reduce noise from your bow thruster →
Shorter tunnels are comparatively more efficient and less noisy. They suffer less from cavitation caused by larger width tunnels, or tunnels that have been poorly installed by not rounding off and fairing in the ends where they meet the hull sides.
Pros:
Perfect for flat-bottomed sailing yachts.

Can be used as a stern propeller for boats that cannot mount an external thruster on the stern.

Highly efficient thrust as they can usually be mounted with good depth and far into the boat using a shorter length tunnel.

Often low or zero noise as the vibration energy does not easily propagate to the hull.

Can be made available with Proportional Control.
Cons:
More involved construction compared to other types.

Larger internal footprint compared to size of tunnel.

Some delay while the tunnel is being deployed.

More vulnerable to damage due to the external protrusion.
Externally mounted side propeller

Coming in different shapes and sizes, but with the most common types being torpedo-shaped solutions mounted underneath a boat's hull. These streamlined pods are perfect for boats that have very little internal space, or for owners of smaller, less expensive crafts who might struggle to justify the cost of installing a 'full-fat' tunnel or retractable thruster.
With the propeller and electric motor contained together inside a hydrodynamic housing, any concept of drag is barely noticeable and drilling small holes for the mounting shaft and internal cabling is a quicker, less costly and more convenient process than for all other alternatives.
Read more: How to choose the best thruster brand for your boat →
And due to their positioning at the outermost extremities of a hull, exterior mounted thrusters benefit greatly from an increased leverage arm in relation to the pivot point on a boat's hull. This means although these units may generally be smaller in size and with less available thrust power, their greater efficiency means they are able to move larger size boats by requiring nominally less power than conventional thrusters.
As the name suggests, the only negative aspect to think about is that if you regularly launch and recover your boat using a trailer, or if you store your boat ashore on a raised stack system, you will need to bear in mind there's now an additional appendage protruding from the lower half of your hull.
Pros:
Requires minimal interior space in a boat.

Easier and faster to install and perfect for retro-fit.

Higher efficiency due to optimum positioning.

Quiet operation in majority of cases.

Long run-time due to effective water cooling of the motor.

Small footprint on the stern area surface.
Cons:
Not recommended for planing hulls.

Some negative effects of increased water resistance and associated drag.

Care required when lifting the hull out, re-launching or storing ashore.
With the different thruster options available today, boat owners have a far wider choice than ever before. Seldom does the 'one boat, one rule' system need to apply.